The 2016 Multi-Disability Lawn Bowls National Championships were held at Clearview Bowling Club located in Adelaide from the 22nd - 27th of May.
This year the competition welcomed 43 participants from South Australia, Western Australia, Victoria, New South Wales, Queensland, Tasmania and ACT. This is the most competitors who have attended in the competition's history.
Across the six days of the tournament the players competed in men's singles, women's singles, men's B5/6 pairs, men's B7/8 pairs, women's pairs and open triples.
The week started well with the triples being completed in the first two days of competition however as the week progressed the weather didn't do the participants many favours. The players battled through the conditions in the final three days to try and complete all the competitions but unfortunately almost no play could be held on the final day.
In the competitions that could not be finished due to weather, the winners were determined using a count back system as per the rules of Bowls Australia.
Disability Sports Australia would like to thank Disability Recreation and Sports SA and Clearview Bowling Club for hosting the event, the Bowls Executive Committee and Mr Leon Harder Tournament Director for making a successful tournament.
Results
Triples
Bronze: Bonnell/Nicholls/Sellars (QLD)
Silver: Thornton/Slater/Argent (VIC)
Gold: Mason/Barrie/Quinn (ACT/SA)
Women's Pairs
Bronze: Hunter/Nelson (NSW)
Silver: Morrison/Meaking (VIC)
Gold: Smith/Bonnell (QLD)
Men's Pairs
Bronze: Williams/Currie (QLD)
Silver: Thornton/Weaver (VIC)
Gold: Gollan/Murray (WA)
Women's Singles
Bronze: Carolyn Nelson (NSW)
Silver: Kaytlyn Smith (QLD)
Gold: Jo Hunter (NSW)
Men's B5/6 Singles
Bronze: Matthew Barrie (ACT)
Silver: Eddie Gollan (WA)
Gold: Geoff Seton (NSW)
Men's 7/8 Singles
Bronze: Josh Thornton (VIC)
Silver: Clive Williams (QLD)
Gold: Chris Flavel (SA)
Clover/Lester Encouragement Award - Dylan-Jack Weaver (VIC)
The Clover Lester Encouragement Award was established in 2000 recognising players that are relatively new to the sport at a national level and who set a good example at all times on and off the green, displaying good sportsmanship, encouraging others and having the potential to become a good bowler. This years recipient Dylan, at the age of 16 is this year's youngest competitor. Dylan started Bowls 4 years ago when he was 12. This was his first ever nationals and only his second time bowling on synthetic greens. Dylan made the finals of the pairs and bowled well in triples and singles. Dylan's competitors have noted his good sportsmanship and good nature while embracing the spirit of the competition.
Interstate Trophy - ACT
The Interstate Trophy is awarded to the state who has the highest points on aggregate across disciplines and classes and divided by the number of players on the team.
Download a PDF of the schedule or download a full copy of all results
PHOTOS
Full set of photos can be found on our Facebook page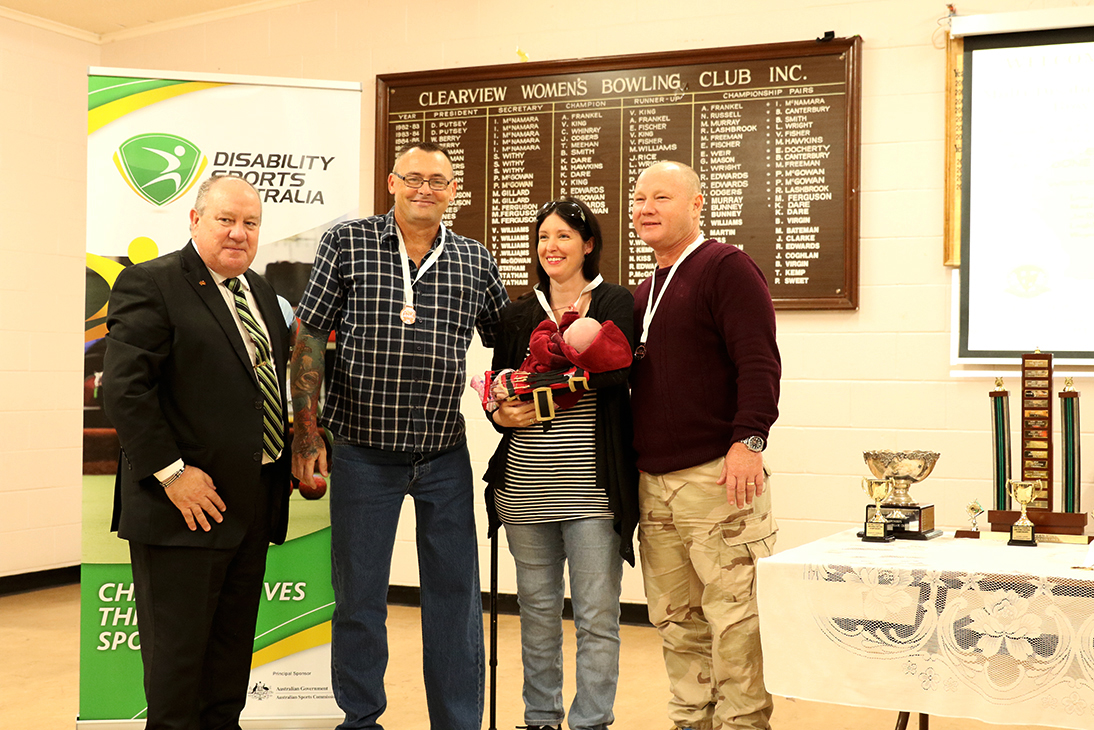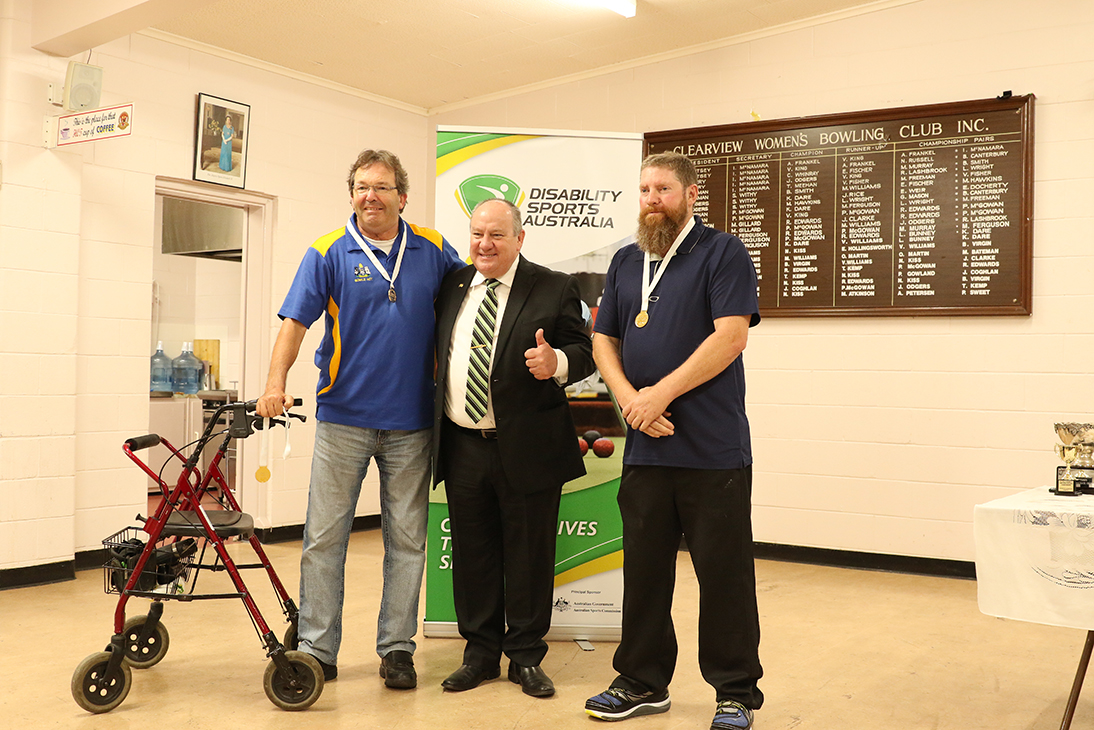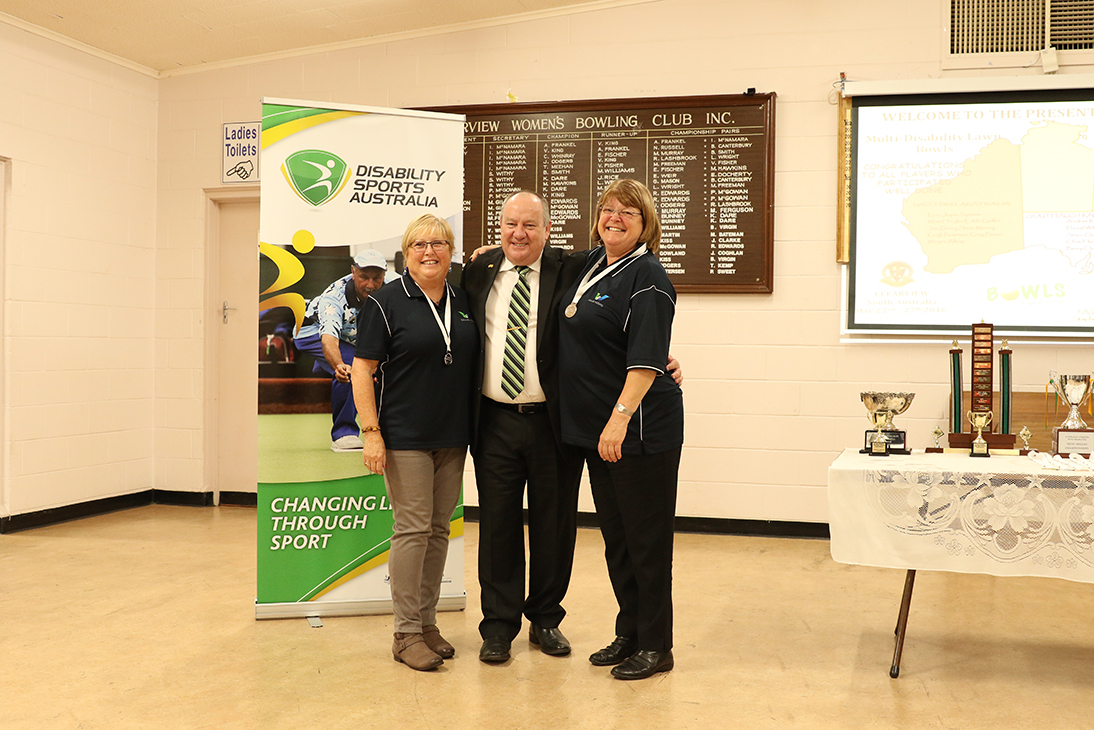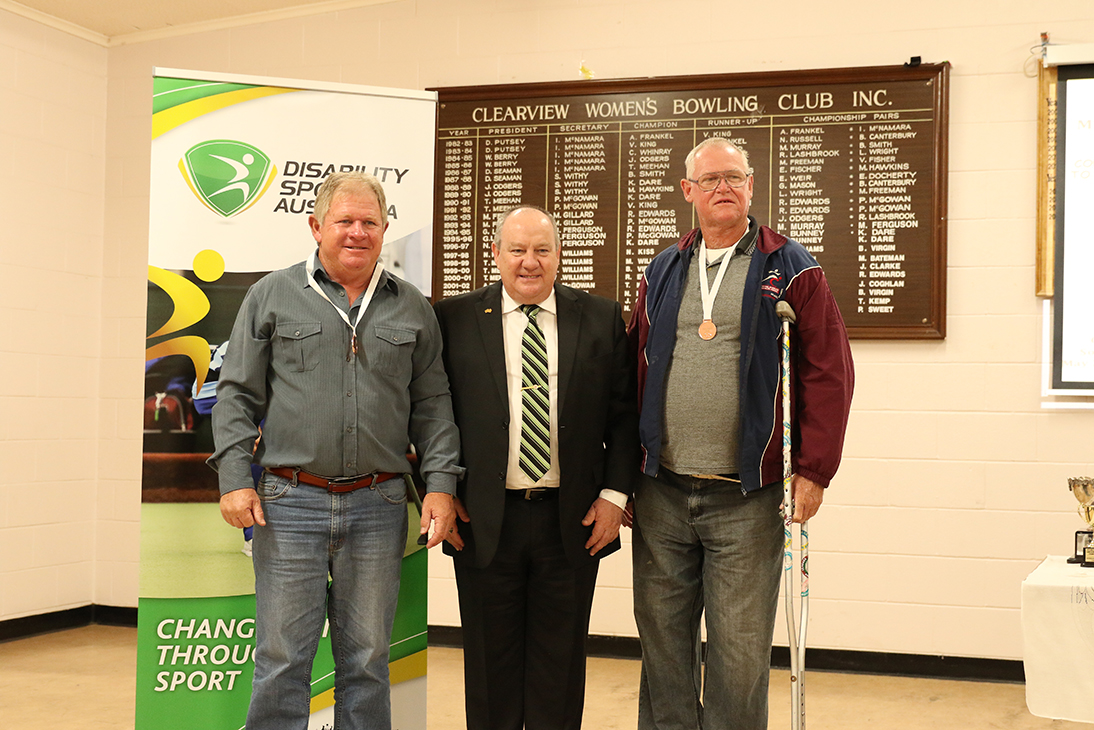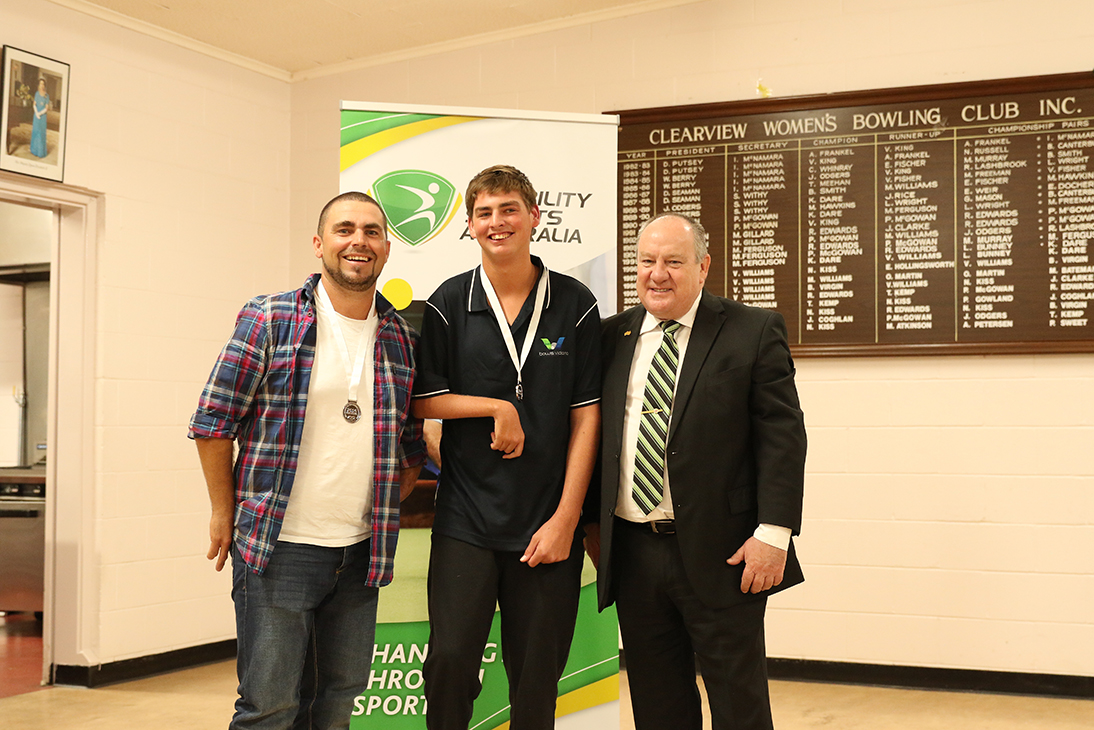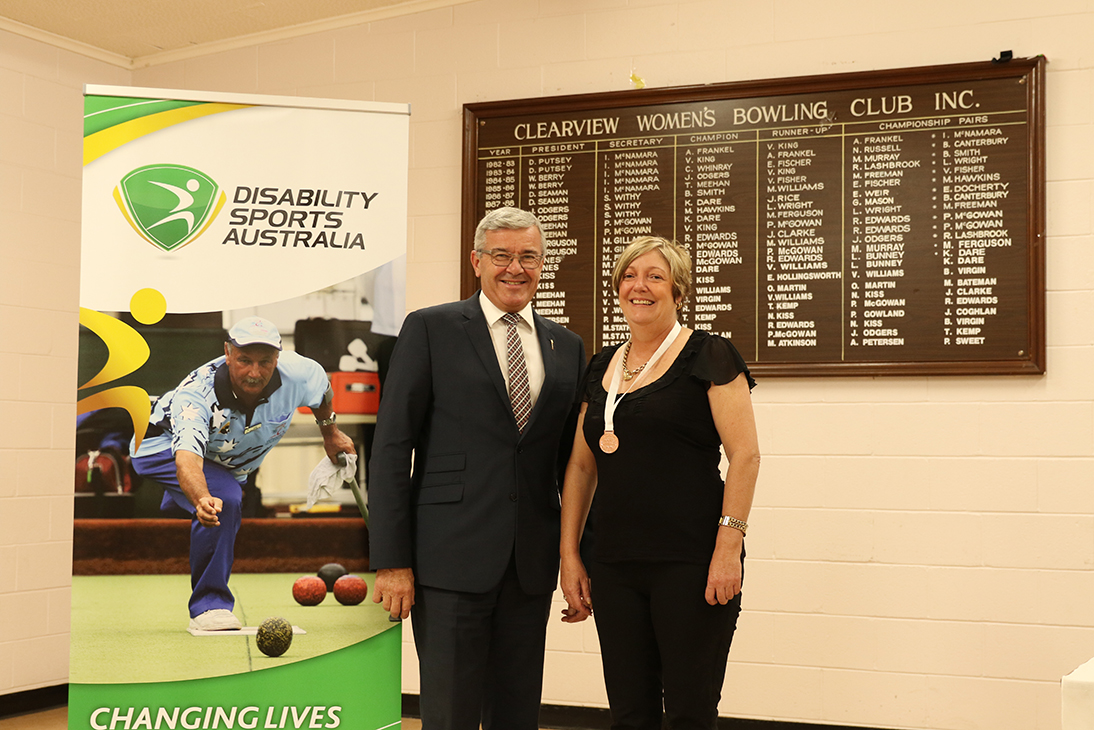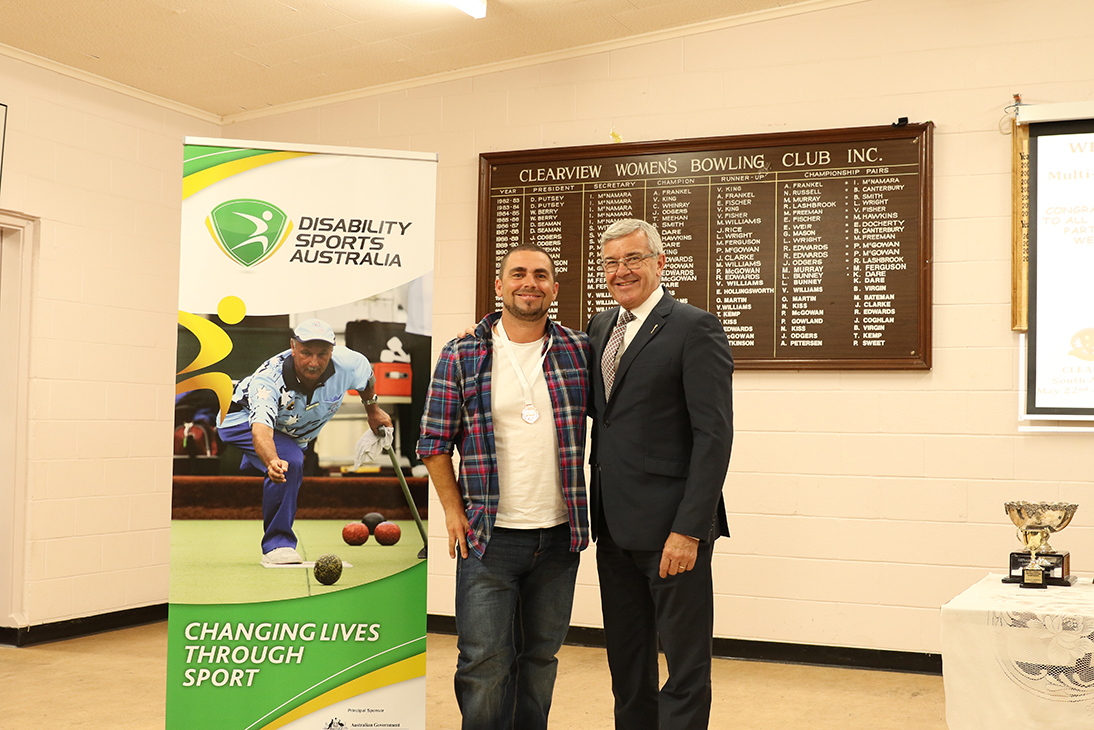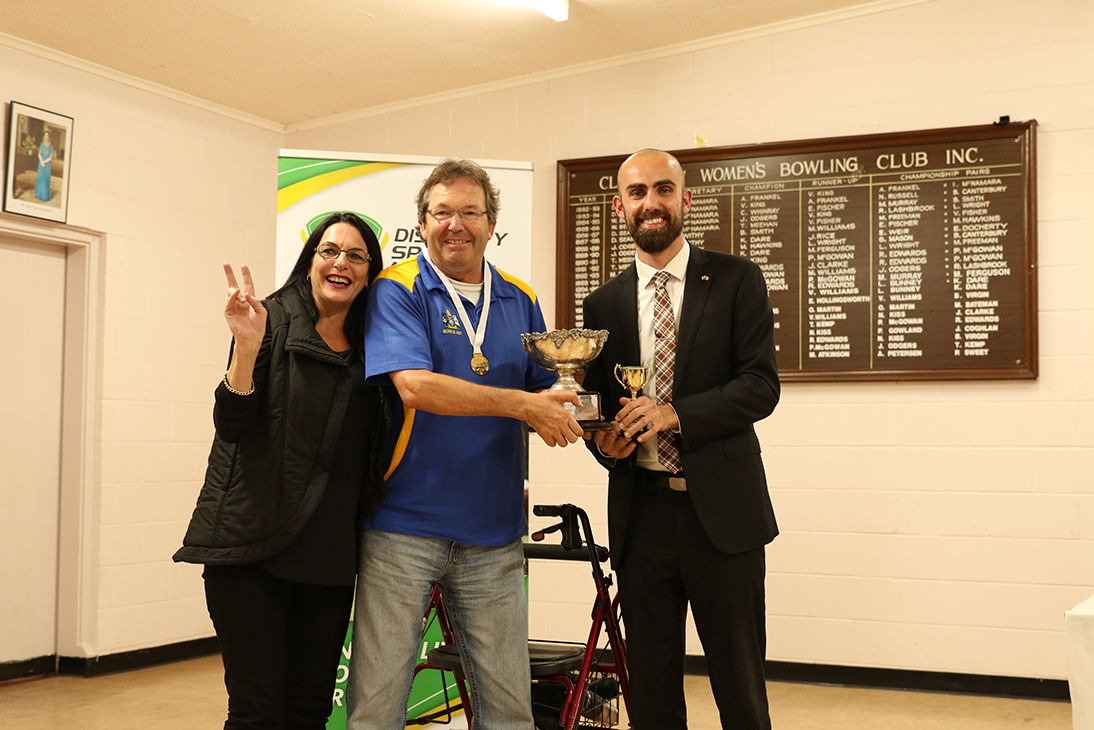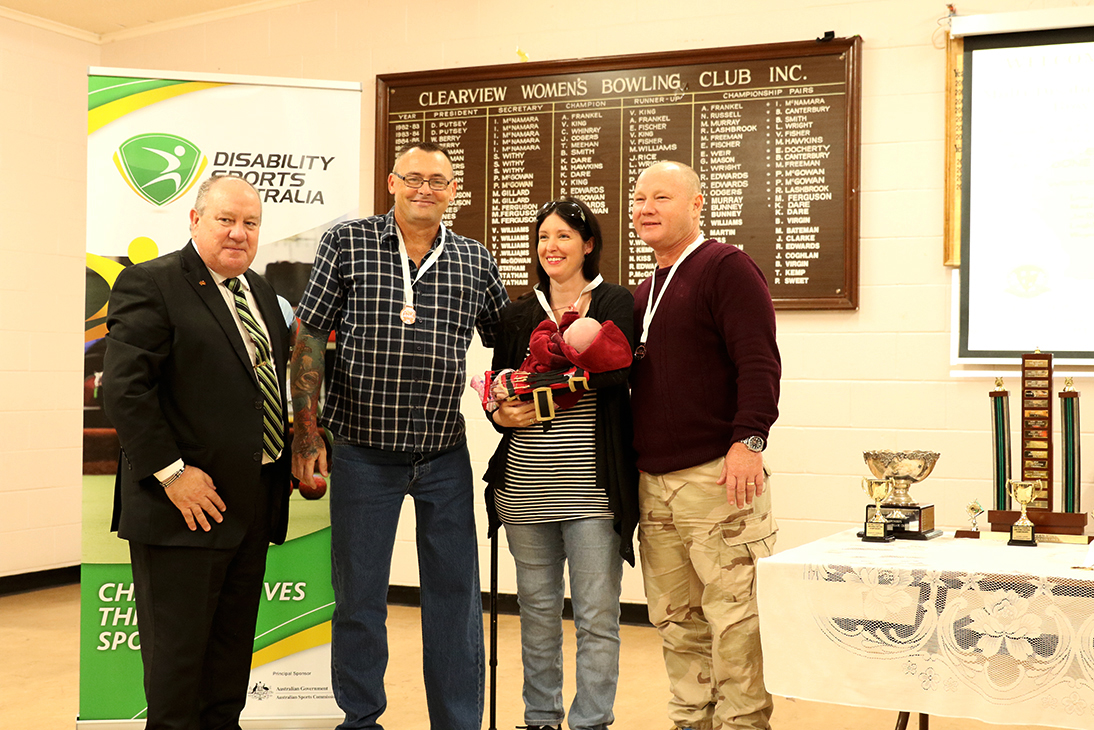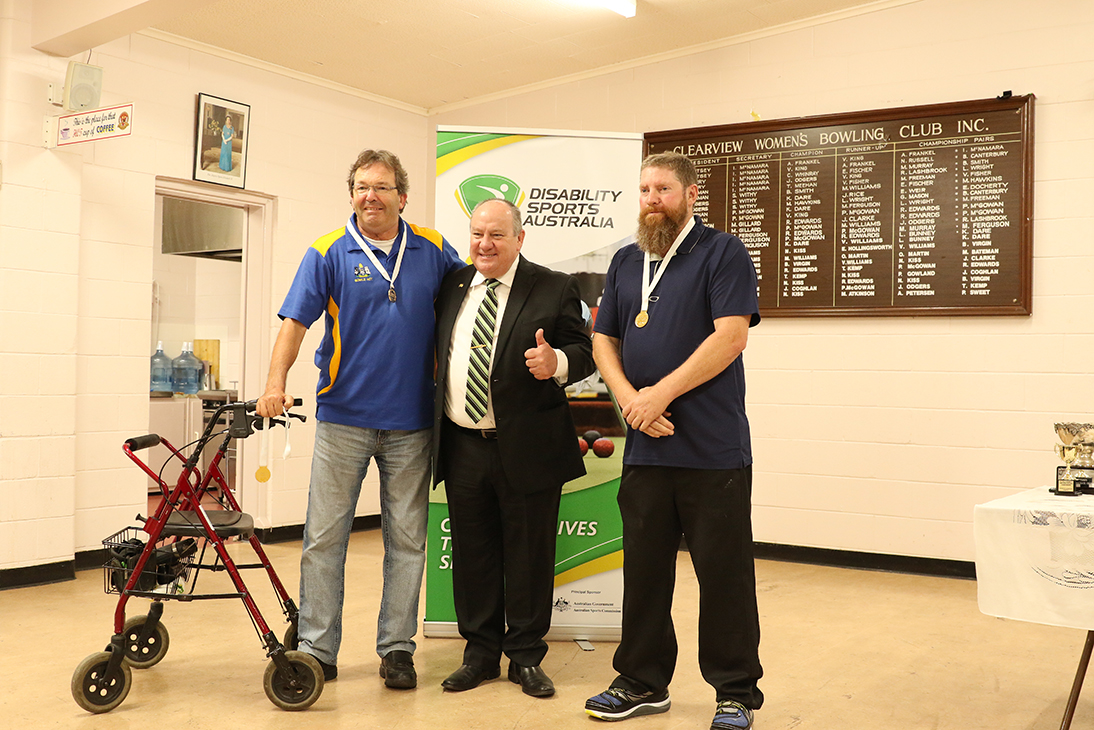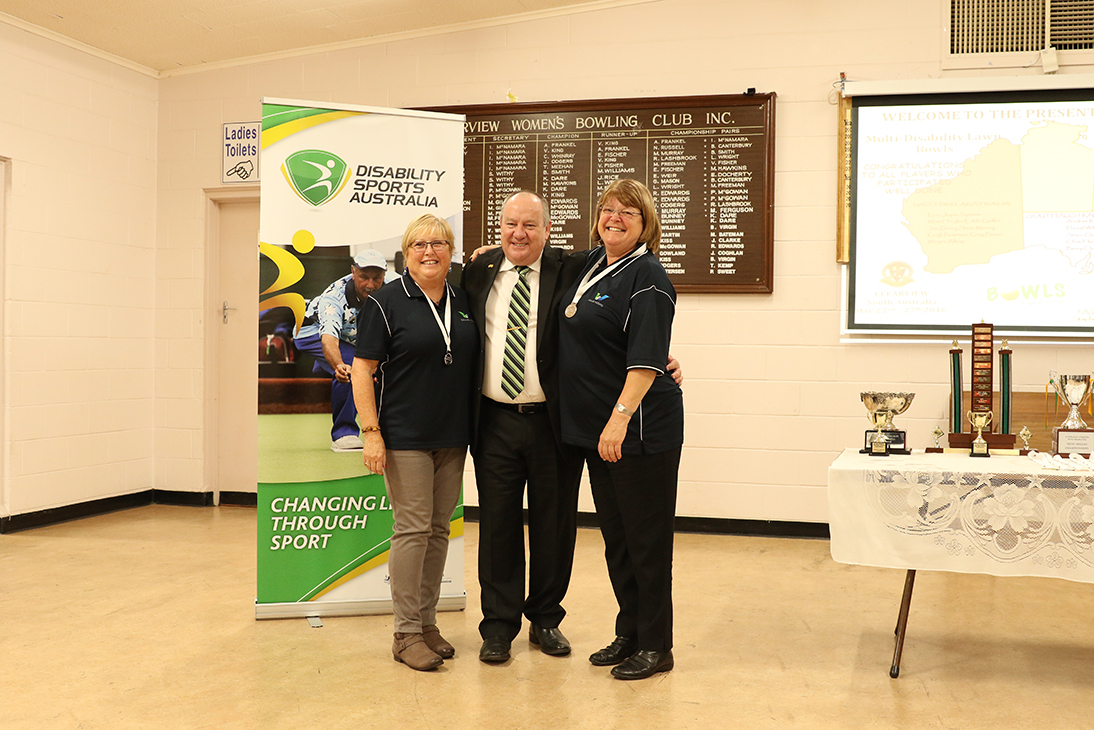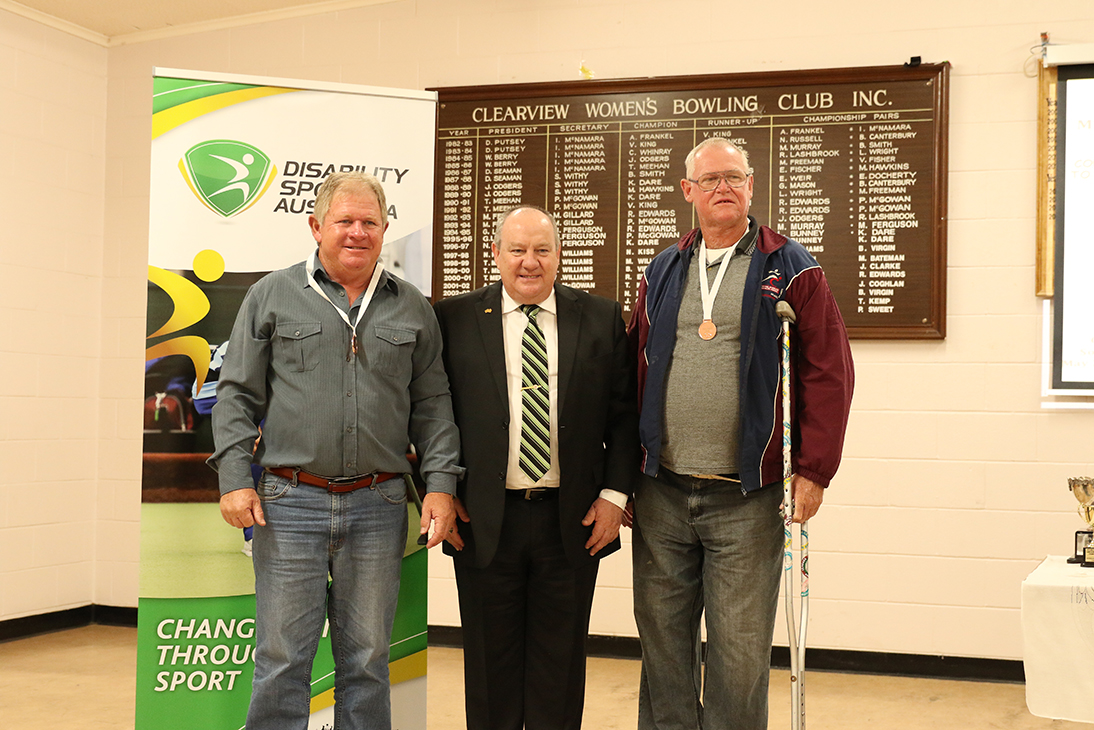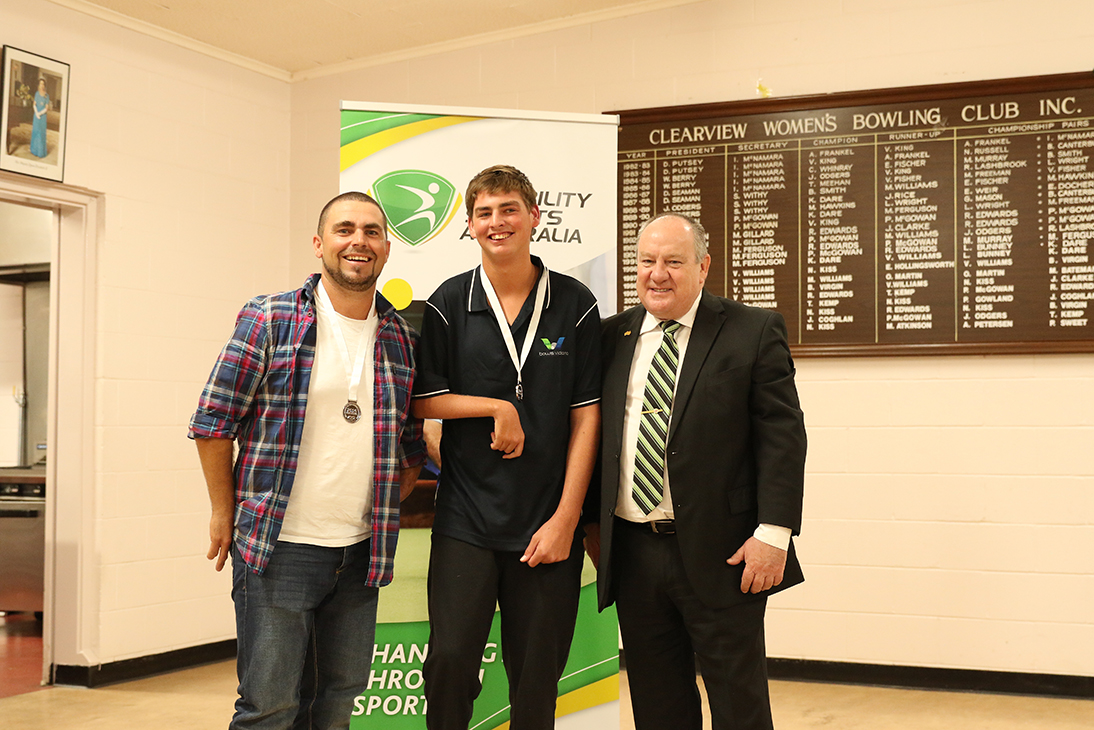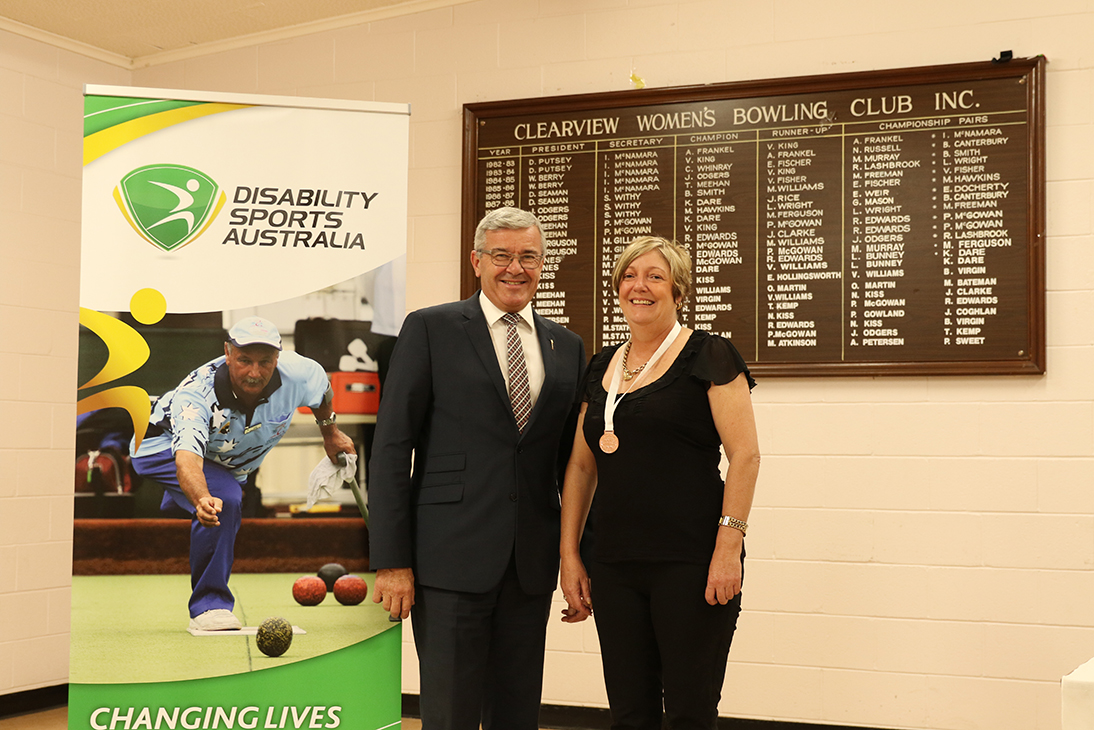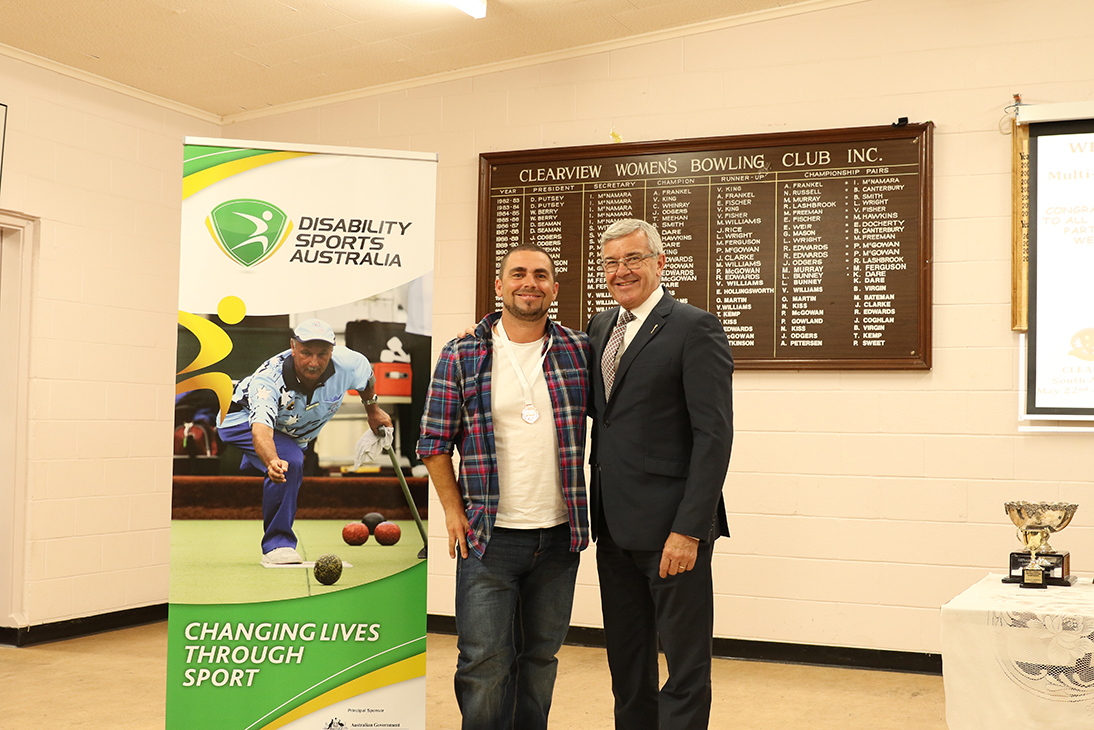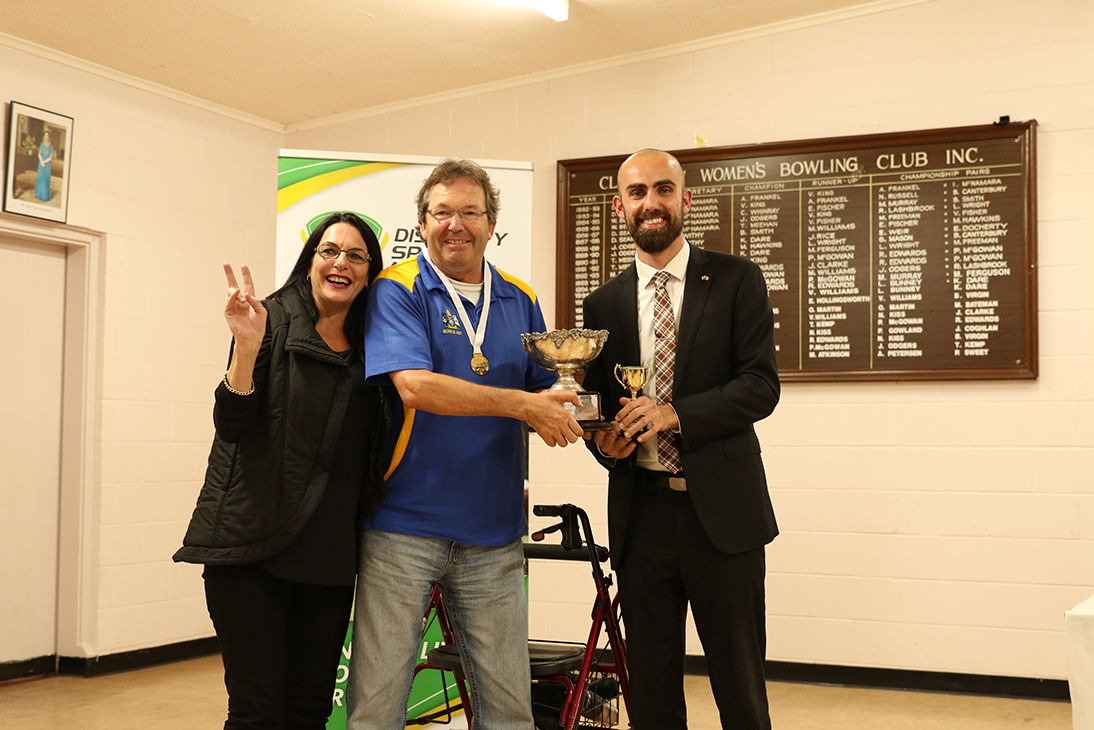 The following states and territories competed for the title of National Champions:
Victoria
Team Manager
Scott Nicholas
Competitors
Lucas Protopapas
Ken Argent
Josh Barry
Josh Thornton
Tim Slater
Dylan-Jack Weaver
Alison Meakin
Janet Morrison
Joanne Boland
New South Wales
Team Manager
Bryce Williams
Competitors
Geoff Seton
Gilbert Hicks
James Reynolds
Doug Lambert
Ryan Wood
Brad Gilbert
Jo Hunter
Carolyn Nelson
Cheryl Benbo
Queensland
Team Manager
Bernie Wolland
Competitors
Tony Bonnell
Bernie Wolland
Clive Williams
Don Currie
Brett Sellars
Serena Nicholls
Kaytlyn Smith
Debra McGarry
Annette Goldsworthy
Western Australia
Team Manager
Denise McMillan
Competitors
Eddie Gollan
Joe Davey
Wayne Allsop
Steve Murray
Leigh Passmore
Greg Power
Lara-Jane Symons
Maud Taylor
South Australia
Team Manager
Chris Flavel
Competitors
Chris Flavel
Barry Charity
Darryl Willson
Steve Quinn
Andrew Reed
Australian Capital Territory
Team Manager
Di Barrie
Competitors
Matthew Barrie
John Mason
Tasmania
Competitors
Stephen Lockey
Below is a write-up of the event from Bowls Victoria:
The 2016 Multi-Disability National Lawn Bowls Championships took place from May 22 to May 27 at Clearview BC in Adelaide, and Victoria was out to defend its overall title.
Some strong performances were put in by our State team for bowlers with a physical disability all week, and although we didn't walk away with the title, we did pick up three silvers, a bronze and the award for the best up-and-coming bowler.
Before the opening round of triples, Josh Thornton presented 16-year-old DJ Weaver (Moulamein) with his state cap, whilst Alison Meakin had the honor of presenting Jo Boland (Yarra Glen) with hers.
Josh and Alison shared a few words of encouragement with the new team members before a quick team photo and the 2016 MultiBowl Nationals were underway.

Day One

The opening day saw the threat of rain and some ominous looking clouds settled in above Clearview BC, and the Vics got off to a mixed start on the first day.

Josh Thornton, Tim Slater, and Ken Argent started well in the Men's Triples, winning the first six ends, before subsequently losing the next six to Australian representative Chris Flavel's South Australian side. The match finished 17-14 with the Vic's sneaking home with the win.

Unfortunately our other two triples sides took longer to adjust to the conditions, both losing their first round matches.

Rain throughout the rest of the day caused tricky conditions for the bowlers. The last game of the day saw the lights turn on and the heaven's open. The ladies combination of Janet Morrison, Alison Meakin and Boland fought through the trying conditions to hold on for their first win 11-6.
Day Two

Day two started with the first round of Women's Singles and Men's Pairs with bright sunshine as Clearview BC started living up to its name.

Alison Meakin had a comfortable win, while DJ Weaver and Josh Thornton came back from three down going into the last end, to win 17-16 after a clutch shot from JT.

With just the one team progressing through to the Triples finals; Josh Thornton, Tim Slater and Ken Argent had the full support of the Victorian contingent in their Triples semi-final and defeated Queensland 23-15.

The final was a thrilling match and heading into the final end it was 16-all after the combined ACT/SA reeled in the early Victorian lead.

In a nail-biting finish that came down to a measure, ACT/SA were crowned Triples champions and Victoria took out their first medal of the campaign - silver.
Day Three

Women's Singles and Men's Pairs continued with two more sectional games and semi-finals.

Janet Morrison had a draw in her first game in the morning after coming back form a 9-1 deficit to start the match. In the last round both Janet (21-12) and debutant Jo Boland (21-6) recorded their first singles wins for Victoria, capping off a great morning of play.

Two Victorian teams made the semi-finals of the Men's Pairs.
Josh Thornton and DJ Weaver continued their strong play to advance to the final, while Tim Slater and Ken Argent couldn't hold on to an early lead against a strong WA team in the semi-final but got through to the Bronze medal play-off.
It was a fantastic game to watch with both guys finding their rhythm and consistency throughout the match, with Ken persisting through injury with an inspirational performance.
Day Four
The formats reversed, but it wasn't long before rain again caused play to be stopped in the Men's Singles, with the Women's Pairs called off and postponed until the following day.
When play did resume Josh Barry, Tim Slater and Josh Thornton all had wins, while Ken, DJ and Lucas fought hard against some tough opposition.
Day Five
There was a bit of work to be done to try and catch up for the rain delays the previous day, meaning the Women's Pairs had to play an extra game to make up time. Four games, eight hours and over 52 ends of bowls to be played in the day.

Alison and Janet went through the day undefeated, with two wins and two losses, putting them in medal contention, while Jo Boland paired up with Cheryl Benbow from NSW.

Lucas and DJ won their first games of the day while Josh Thornton made it three from three in the Men's Singles sectional setting up a mouth watering semi-final against SA's Chris Flavel.

After a slow start it looked over for JT down 12-18, before fighting back to be within striking distance at 19-20.

Unfortunately for Josh, Flavel only needed one more and took it out 21-19 meaning Josh would play off for Bronze in the Singles on Friday.
Day Six

There were lots of medals on offer on the final day to finish off the competition and it was all set to be a big day for the Vics.

Josh Thornton and DJ Weaver fought hard in the Men's Pairs final, but couldn't get over the line losing 13-12.
Alison Meakin and Janet Morrison finished their campaign in style, with a 15-12 victory over Queensland pair Nicholls and Smith who were leading the Women's Pairs standings.
It was 12-all with one end remaining, but Meakin put some close bowls in before Morrison had the last shot.
Down on the last bowl, Janet converted the shot for three for a fantastic victory. Although the victory wasn't enough to overtake the Queensland pairing for gold, it was enough to secure silver for Meakin and Morrison, a great result for the ladies from Mulgrave CC.

Josh Thornton added to his two silver medals from the pairs and triples with a convincing 21-3 win to secure bronze in the Men's Singles, proving to be one of the best performed and most consistent bowlers of the week.
Overall
Three silver medals and one bronze was a fantastic effort by the Victorian Squad.

ACT took out the overall State trophy, but the Victorian squad will be determined to win it back when the Nationals roll around again next year. With a sign of things to come, DJ Weaver took out the Lester/Clover Encouragement Award, recognising a talented young bowler on the rise!

A special thank you goes out to all the people who supported the squad in the lead-up and in Adelaide for the Nationals; Nicole Shortis, Carol & Amando Protopapas, Ann Argent, Kenny Pattison, Chris Boland, Raelene Barry, Jacquie Scandolera, Doreen & Robert Weaver and Bowls Victoria Director Lyn Baker, Gordie and Coralie from Yarra Glen BC. The Vic's were definitely the best supported team, and probably the most fun as well!

The Victorian Squad: Alison Meakin (Mulgrave), Janet Morrison (Mulgrave), Jo Boland ( Yarra Glen), Josh Thornton (East Shepparton), Josh Barry (Sebastopol), Lucas Protopapas (Mulgrave), Ken Argent (Alexandra), DJ Weaver (Moulamein), and Tim Slater (Fitzroy Victoria).